BETWEEN CORTINA D'AMPEZZO
AND VAL FIORENTINA
Giau Pass Dolomites


The Giau Pass is one of the highest and fascinating mountain passes of the Dolomites. Chosen for several TV commercials, it is a privileged "balcony" at 2236 meters, with stunning views of Cortina d'Ampezzo, Tofane, Croda Rossa, Pelmo, Pomagagnon, Cristallo, Croda da Lago, Averau, the massive Sella and the Marmolada.
On a clear day, one can see as far as the Tre Cime (Three Peaks) of Lavaredo and the Croda dei Toni. Notorious among experienced cyclists and motorcyclists for its sinuous curves, the passo Giau was chosen for one of the legs of the renowned race, Giro d'Italia, as well as for the Rally Ronde Dolomiti and the Marathon of the Dolomites.
The high-altitude meadows with magnificent spring blooms are the starting points for several different hikes, leading to the Nuvolau, Averau, 5 Torri and Cernera, as well as being one of the most beautiful stages of the hike on the Alta Via (High Road) of the Dolomites n.1.
For those who love great hights,there are rock climbing trails and "vie ferrate" in the vicinity. Leaving the Giau and hiking on breathtaking panoramic trails, you eventually reach the open air museum of the Great War of the 5 Torri. There one finds ancient ruins of the Great Wall of Giau and the burial site of a Mesolithic hunter, known as the Mondeval Man, who lived there over 7,000 years ago, and whose well preserved skeleton and accompanying artifacts can be seen in the nearby Vittorino Cazzetta Museum in Selva di Cadore.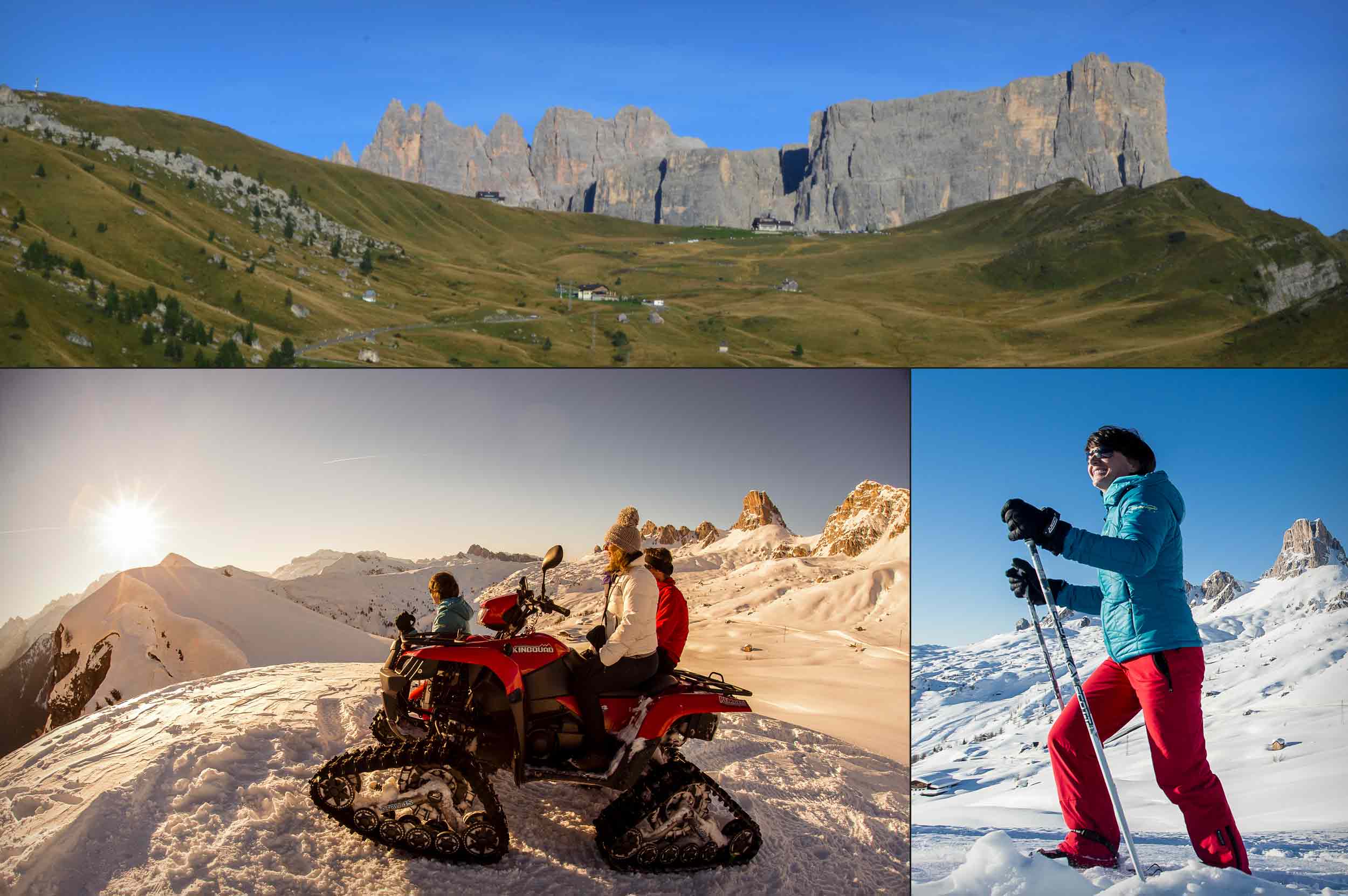 A paradise for lovers of snowshoeing and ski mountaineering, the area of Passo Giau is connected with ski lifts to the ski area, Lagazuoi – Cinque Torri, from where ski tours such as the Giro della Grande Guerra (Tour of the Great War), the Super8 Ski Tour, and the Lagazuoi Ski Tour, have their starting points.
Having optimal snow and wind conditions, Passo Giau is also the ideal place to practice snowkiting, (discipline free ride), requiring use of kites and skis.
Well … What are you waiting for? The fairytale-like beauty of the passo Giau will bewitch you!


Photo 360° click and drag


SEE MORE